I'd like to introduce one of my favorite treats - almond milk custard!
This delightful dessert combines the creamy texture of traditional custard with the dairy-free benefits of almond milk, making it perfect for those on a dairy-free diet or who are lactose intolerant.
Bon appétit!
What Makes This The Best Almond Milk Custard Recipe?
What sets almond milk custard apart as a fantastic addition to your collection of recipes?
Its rich, creamy flavor is not only tempting, but it's also surprisingly easy to prepare!
The simple ingredients include almond milk, sweetener, egg yolks, and vanilla extract.
I recommend using monk fruit sweetener since it's a natural, low-calorie option that doesn't impact blood sugar, making it ideal for those monitoring their sugar consumption.
When you're ready to serve, take the almond milk custard out of the fridge and garnish with your choice of toppings, if desired.
Great options include fresh berries, whipped cream, or chopped nuts.
Beyond being a delicious dessert, it also acts as a delightful conversation piece.
Whether you're hosting an intimate gathering with family or friends or preparing a magical date night, this charming twist on a classic dessert is bound to impress your guests.
Our Almond Milk Custard Ingredients
Let's immerse ourselves in the gorgeous world of this delicious dessert together! All you need are a few simple ingredients:
260 g / 1 cup + 1 tbsp Almond Milk, My favorite plant-based milk. Adds that incredible nutty flavor.
4 medium Egg Yolk, acts as a natural thickener that adds creaminess.
65 g / ⅓ Cup Monk Fruit Sweetener, divided in half, A zero-calorie sweetener
1 tsp Vanilla Extract, Adds aroma and flavor
How to Make Almond Milk Custard
Step 1: First off, grab a saucepan and mix your almond milk with half of the monk fruit sweetener. Warm it up over medium heat and give it a stir until the sweetener dissolves. Make sure it doesn't boil, though!
Step 2: Now, in another bowl, whisk those egg yolks with the remaining sweetener until you've got a creamy, pale concoction.
Step 3: Carefully pour the hot almond milk into the egg mix, whisking constantly. This way, you won't end up with scrambled eggs in your custard!
Step 4: Time to put that custard mixture back in the saucepan. Cook it on low heat, stirring non-stop, until it reaches 180°F/82°C. It should thicken up nicely and coat a spoon.
Step 5: Take it off the heat and mix in the vanilla extract.
Step 6: Strain the custard through a fine sieve into a spouted cup to remove lumps and make it super smooth.
Step 7: Pour the custard into two ramekins and put them in a large baking dish. Fill that dish with hot water halfway up the sides of the ramekins.
Step 8: Pop them in the oven preheated to 340°F/170°C for 40-45 minutes. The edges should be set, but the center jiggly.
Step 9: Once they're out of the oven, let them cool, then chill them for at least 12 hours in the fridge.
Step 10: Serve cold and topped with your fave goodies!
That's it!
Tips & Tricks for Making Delicious Almond Milk Custard
Here are some tips & tricks and topping ideas to elevate your custard game.
Pick top-notch almond milk: Your almond milk's quality will really impact your custard's flavor and consistency. Go for a rich and tasty almond milk to get stellar results.
Use a Thermometer: To ensure your custard is cooked to perfection, use a thermometer to make sure it reaches 180°F/82°C.
Strain your custard: Make your custard crazy smooth by running the mixture through a fine-mesh sieve.
Cool it down: Post-baking, let the custard get to room temp before chilling it in the fridge. This helps avoid any unsightly cracks.
Substitutes
Sweetener: You can use other low-carb sweeteners like stevia instead of monk fruit sweetener. If you're not following a low-carb diet, you can use regular sugar.
Flavorings: Experiment with different flavorings like cinnamon, nutmeg, or cardamom to give your custard a unique taste.
Nut Milk: Use other plant-based milks like cashew milk or coconut milk instead of almond milk to create a different flavor profile.
Toppings Ideas
This almond milk custard is already delicious by itself, but why not amp it up with some tasty toppings?
Turn it into a next-level dessert by adding a mix of fresh berries, nuts, sauces, and dried fruit. Not only do these additions bring in variety, but they also let you tailor the dessert to your taste.
So, whether you're into fruity, nutty, or chocolatey treats, there's a topping combo perfect for you. Don't hesitate to get creative and discover your own mouthwatering masterpiece!
Berries and Whipped Cream: Combine fresh berries and a dollop of whipped cream for a fresh and light dessert.
Caramel Nut: Drizzle caramel sauce over your custard and sprinkle it with chopped toasted almonds or toasted pecans for a decadent and nutty treat.
Chocolate Coconut Berry: Grate dark chocolate over your custard, sprinkle it with toasted coconut flakes, and top it with fresh berries for a dessert that's both indulgent and refreshing.
Citrus Nutty Coconut: Sprinkle your custard with coconut flakes and orange zest, then top it with chopped toasted walnuts for a dessert that's tropical and nutty.
Dried Fruit: Dried fruits like figs, apricots, or even candied cherry tomatoes add a chewy and sweet texture to your custard. You can use dried orange slices for a festive touch.
These are just a few of the many ways you can mix and match the toppings and flavorings to create a delicious and unique almond milk custard.
Don't be afraid to experiment and find your own perfect combination of flavors and textures!
Print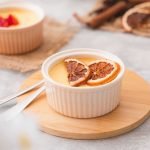 Almond Milk Custard
---
Author:

Total Time:

55 minutes

Yield:

2

Servings

1

x
Description
This almond milk custard is dairy free but doesn't sacrifice the taste or texture of traditional custard!
---
1

cup

+ 1

tbsp

Almond Milk

4

medium Egg Yolk

1/3

cup

Monk Fruit Sweetener, divided in half

1 tsp

Vanilla Extract
---
Instructions
Combine the milk and half of the monk fruit sweetener in a medium saucepan. Heat the mixture over medium heat, occasionally stirring, until the sweetener has dissolved and the mixture is hot but not boiling.

Whisk the egg yolks and the remaining monk fruit sweetener in a separate mixing bowl until pale and creamy.

Slowly pour the hot milk mixture into the egg mixture, constantly whisking to temper the eggs and prevent them from scrambling.

Return the custard mixture to the saucepan and cook over low heat, constantly stirring, until it reaches 180°F/82°C on a thermometer. The mixture should thicken and coat the back of a spoon.

Remove the custard mixture from the heat and stir in the vanilla extract.

Strain the custard mixture through a fine-mesh sieve and into a measuring cup with a spout. This will remove any lumps and ensure a smooth texture.

Pour the custard mixture into four ramekins and place them in a large baking dish. Fill the baking dish with hot water until it reaches halfway up the sides of the ramekins.

Bake the custards for 40-45 minutes in the preheated oven at 340°F/170°C or until set around the edges but still slightly jiggly in the center.

Remove the custards from the oven and let them cool to room temperature. Then, chill them in the refrigerator for at least 12 hours. 

Serve the almond milk custards cold, garnished with your favorite toppings if desired.
Notes
Choose high-quality almond milk for better flavor and consistency.

Use a thermometer to ensure custard reaches 180°F/82°C.

Strain custard through a fine-mesh sieve for smoothness.

Cool custard to room temperature before chilling in the fridge.

Consider alternative sweeteners, like stevia or regular sugar.

Optional: Enhance taste with toppings like berries, nuts, sauces, or dried fruit.
Prep Time:

5

Cook Time:

50

Category:

Dessert

Cuisine:

American
Nutrition
Serving Size:

1 Serving

Calories:

141

Sugar:

2 g

Sodium:

112.2 mg

Fat:

10.5 g

Carbohydrates:

3.7 g

Protein:

6.2 g

Cholesterol:

368.9 mg
Keywords: homemade custard