Nothing is more comforting than a bowl of tomato soup or, in this case, dairy-free tomato soup.
This tomato soup boasts amazing fresh flavors, is completely dairy-free, and comes together in just 30 minutes.
Tomato soup is a classic dish that brings a soothing warmth with every spoonful. The ingredients are fairly simple and can be found in your fridge, pantry, or garden.
Juicy ripe tomatoes, fresh aromatics like garlic and onion and fragrant herbs like basil and thyme finished with coconut milk; result in a rich and velvety soup.
The beauty of this soup is that it bursts with natural sweetness and tanginess from the tomatoes.
Dairy-Free Tomato Soup Ingredients
Here's your shopping list for this dairy-free tomato soup recipe:
Olive oil or grapeseed oil
Onion or shallots
Garlic
Tomatoes (roma, san marzano or beefsteak)
Vegetable stock
Full-fat coconut milk
Salt
Black pepper
Garlic powder
Basil leaves
What Type of Tomatoes Should You Use For Tomato Soup?
The star of the recipe is, you guessed it, tomatoes. Not only are tomatoes delicious and versatile, but they are also quite nutritious and contribute to your overall health.
Tomatoes are an excellent source of Lycopene – a powerful antioxidant that promotes heart health and may protect against certain cancers.
They are also packed full of Vitamin C, which supports a healthy immune system, collagen production and aids in iron absorption.
When it comes to hydrating foods, tomatoes are at the top of the list for their high water content. Essentially, this dairy-free tomato soup is a comforting way to hydrate your body and stay nourished.
There are a number of tomato varieties out there, all of which can be used to make tomato soup. However, the best varieties to use are roma, beefsteak or san marzano tomatoes.
Beefsteak and Roma tomatoes – sometimes called plum tomatoes – are known for their meaty texture, concentrated flavor and low water content.
San Marzano tomatoes come from the Campania region of Italy and are loved for their vibrant flavor and low acidity.
If you'd like to switch things up a bit, then feel free to play around with heirloom tomatoes.
These tomatoes come in different colors, shapes, sizes and flavors. Heirloom tomatoes are a fun way to add complexity and uniqueness to your tomato soup.
How to Make Dairy-Free Tomato Soup
Place your pot on a stovetop set to medium heat. Then, add the oil to the pot and sauté onions for about 2 minutes until it develops an aromatic scent.
You can then introduce the garlic into the mix, letting it cook for approximately one minute—don't let it burn!
Next, the tomatoes and vegetable broth go into the pot and mix it all together.
Cover the pot and allow the tomatoes to simmer for 10-15 minutes, or until you notice the skin pulling away from tomato.
At this point, it's time to reduce the heat. Use an immersion blender to achieve a smooth soup consistency.
If you don't have an immersion blender, you can use a blender instead. Just slowly pulse it until it's smooth. You may have to do this in multiple batches.
Then, return the soup to the pot. Add the coconut milk to the soup, and sprinkle salt, black pepper, garlic powder, and basil into the mixture before mixing thoroughly.
Let the soup have a gentle simmer for another duration of 5-10 minutes.
As the final step, taste-test the soup to check the flavor. Then turn off the heat and serve it with a drizzle of coconut milk and fresh basil.
Substitutions & Alternatives
Coconut Milk
Full-fat coconut milk provides a subtle nuttiness that complements the natural sweetness of this dairy-free tomato soup recipe.
It also gives the soup its smooth texture and richness. You can substitute with your favorite unsweetened dairy-free milk like oat milk, almond milk, or soy milk.
Herbs and Aromatics
These savory elements are necessary for a balanced tomato soup.
This recipe calls for garlic, onion or shallots, and fresh basil leaves to keep things classic.
However, you can play around with more herbs, such as thyme, sage, and even fresh ginger for a little kick.
How To Store Dairy-Free Tomato Soup
You can store any leftover dairy-free tomato soup in the fridge for up to 4 days. Be sure to allow the soup to cool completely before transferring it to an airtight container.
For longer storage in the freezer, feel free to separate the soup into individual portions in a freezer-safe container where it will keep for up to 3 months.
What To Serve With Dairy-Free Tomato Soup
Dairy-free tomato soup is very versatile and can be enjoyed for either lunch or dinner. You can make it a more substantial meal by pairing it with a classic melty, gooey grilled cheese sandwich – opt for dairy-free cheeses.
A warm slice of crusty garlic bread also pairs nicely with dairy-free tomato soup as it adds a satisfying crunch and extra depth of flavor.
You can also add a dollop of pesto to the garlic bread for a burst of herbal flavor and contrast.
Print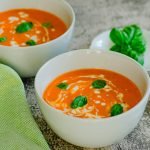 Dairy-Free Tomato Soup
---
Author:

Total Time:

45 minutes

Yield:

4

Servings

1

x

Diet:

Vegan
Description
This dairy-free tomato soup recipe gives you the nostalgia and comfort of homemade soup without dairy.
---
1 Tbsp

oil, grapeseed or olive oil

1/4

cup

onion or shallot, diced

2

cloves garlic, roughly chopped

2

lbs

tomatoes, roma, san marzano or beefsteak variety, chopped

2

–

3

cups

vegetable stock or water

1/2

–

1

cup

unsweetened, full fat coconut milk

1 tsp

salt, plus more to taste

1/4 tsp

black pepper

1/2 tsp

garlic powder

1/4

cup

packed basil leaves, finely chopped
---
Instructions
Heat a pot over medium heat. Add the oil then saute the onion for 2 minutes until fragrant. Add the garlic and cook for an additional 1 minute. Add the tomatoes and vegetable stock to the pot and stir. Cover the pot and allow the tomatoes to simmer for 10-15 minutes or until the skin pulls away from the flesh of the tomato.
Turn down the heat and use a stick blender to puree the soup until smooth. If you don't have a stick blender, then pour the soup into a high speed blender and slowly pulse the soup to process until smooth – work in batches if you need to.
Pour the soup back into the pot. Pour in the coconut milk and season with salt, black pepper, garlic powder and basil then stir well. Let the soup simmer for another 5-10 minutes.
Taste the soup to make sure that the seasoning is as desired. Turn off the heat and serve with a drizzle of coconut milk and fresh basil.
Prep Time:

15 minutes

Cook Time:

30 minutes

Category:

Soup

Cuisine:

American
Nutrition
Serving Size:

1/4th

Calories:

90

Sugar:

7.4 g

Sodium:

891.9 mg

Fat:

4.3 g

Carbohydrates:

12.4 g

Protein:

2.5 g

Cholesterol:

0 mg