Our Almond Milk Mashed Potatoes are delightfully creamy, fluffy, and smooth to the touch – you'll want to make it again and again.
This recipe is entirely dairy-free, but make no mistake, it hits all of the flavor notes as a classic mashed potato recipe.
Ingredients For Almond Milk Mashed Potatoes
You might think that making pillowy-soft mashed potatoes requires dairy, but I beg to differ.
This recipe only requires a handful of simple ingredients:
Potatoes
Vegan butter (see below for substitutions)
Unsweetened, plain almond milk
Salt
Black pepper
Water
There are two secrets to making the best, creamy vegan mashed potatoes.
First you must start with the right potato. Out of the variety of potatoes available, russet potatoes are the best.
They are highly starchy and, as a result, yield the creamiest and fluffiest mashed potatoes.
Please keep in mind that their high starch content also causes them to run the risk of becoming gummy when overmixed, so take care when adding the ingredients.
Lastly, you need a healthy amount of fat. Adding fat (in this case, melted vegan butter) to your potatoes gives them a rich flavor while adding body.
If you are opposed to using vegan butter, you can also use olive oil or coconut oil.
Be sure to add the fat before any liquid. This keeps the texture of the potatoes firm so that they won't soak up too much liquid and become soupy.
How To Make The Best Creamy Almond Milk Mashed Potatoes
Follow these steps to make the creamy mashed potatoes with almond milk.
Step 1: Fill a large pot with 4 ½ - 5 cups of cold water. Chop the potatoes into 1-inch cubes and place them in the cold water as you go. This will prevent the potatoes from oxidizing (i.e. turning brown) while you chop the rest.
Step 2: Place the pot full of potatoes on the stove over medium-high heat. Season the pot with 1 tablespoon of salt and bring it to a rolling boil.
Step 3: Cook the potatoes for about 30 minutes, or until they're fork tender. Then drain them and put them back into the pot.
Step 4: Pour your warm melted vegan butter over the potatoes and start mashing (carefully!)
Step 5: After you've mashed the potatoes decently, add in pepper and your remaining salt. Then pour in your almond milk (¼ cup at a time). Gently fold in the almond milk with a spatula or large spoon for 30 seconds. Alternatively, you can use a whisk with a light beating motion.
Step 6: Give it a taste and adjust the salt as needed.
Substitutions & Alternatives
Potatoes
The potatoes are the star of this recipe, so choosing the right variety is of the utmost importance.
I've found that russet potatoes are the best choice for making mashed potatoes. Alternatively, you can use Yukon gold potatoes as well (which Bon Appétit recommends if you want more dense mashed potatoes).
Vegan Butter
There are so many non-dairy butter options available in supermarkets these days that it can be difficult to choose.
If you prefer not to use vegan butter, olive oil or melted coconut oil works just fine.
They both add the same level of richness and depth to the recipe.
Just keep in mind that the coconut oil will alter the flavor of the recipe and give a subtle (but pleasant) coconut flavor.
How To Store Almond Milk Mashed Potatoes
Mashed potatoes are best enjoyed immediately, and this recipe is no different.
However, if you happen to double the recipe and have leftovers, then place the remainder in an airtight container. Store it in the fridge for 3 days, where it will stay fresh.
How To Reheat Almond Milk Mashed Potatoes
There are two ways that I would recommend reheating almond milk mashed potatoes. If you're quick and in a hurry, then nothing beats the microwave.
Place the potatoes in a microwave-safe dish with a splash of almond milk, then gently stir.
Cover with a lid and heat for 1 minute. Remove the potatoes from the microwave, stir, and check the temperature. If it's not ready, then repeat the steps until you reach your desired temperature.
Alternatively, you can use the oven.
Stir in a splash of almond milk and a tablespoon of butter, and spread the potatoes out on a lined baking sheet.
Cover with aluminum foil and bake at 350 degrees for 20-25 minutes until your desired temperature.
What To Serve With Almond Milk Mashed Potatoes
Let's face it, potatoes are one of THE most popular ingredients.
Their versatility makes them a staple on many grocery lists. This almond milk mashed potato recipe can be served in a number of ways and pair well with just about anything.
Enjoy it with a side of saucy meatballs, load it up with your favorite fixings (sour cream, anyone?), or drown it in a savory gravy.
Likewise, you can simply enjoy it on its own, topped with fresh herbs and melted butter.
Print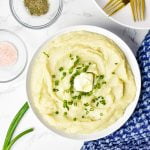 Vegan Almond Milk Mashed Potatoes
---
Author:

Total Time:

50 minutes

Yield:

4

servings

1

x

Diet:

Vegan
Description
This Almond Milk Mashed Potato recipe is creamy, fluffy, and smooth with a dairy-free twist that still delivers classic mashed potato flavor.
---
2 1/2 lbs potatoes, washed and peeled (~ 5 medium potatoes)
1/4 cup vegan butter, melted and warm
3/4 cup unsweetened, plain almond milk
1/2 tsp salt, plus 1 Tbsp for boiling potatoes
1/8 tsp black pepper
4 1/2 – 5 cups cold water
---
Instructions
Fill a pot with 4 ½ – 5 cups of cold water. Chop the potatoes into 1-inch cubes. Place the chopped potatoes in cold water as you go to prevent them from oxidizing (turning brown).
When finished, place the pot over medium-high heat, season with 1 Tbsp of salt and bring to a rolling boil. Cook the potatoes until fork tender for about 30 minutes. Once tender, drain the potatoes and add them back to the pot.
Pour in the warm, melted vegan butter, then carefully mash the potatoes. Season with pepper and remaining salt, then slowly pour in the milk (¼ cup at a time). Use a spatula, large spoon, or whisk to gently incorporate using a folding or light beating motion for 30 seconds to 1 minute. Do not overmix.
When the potatoes are smooth and fluffy, taste to adjust the salt, then serve.
Prep Time:

20

Cook Time:

30

Category:

Side Dish

Cuisine:

Irish
Nutrition
Serving Size:

1 Serving

Calories:

242

Sugar:

3.1 g

Sodium:

478.2 mg

Fat:

6.4 g

Carbohydrates:

42.3 g

Protein:

4.9 g

Cholesterol:

0 mg
Keywords: mashed potatoes