Smoothies are one of the most versatile drinks you can make.
Whether you want a nutrient-dense breakfast, something packed with protein before a workout, or a healthy-ish sweet treat for dessert, you can customize them to fit your needs.
However, coming up with recipes can be a pain. Trying to get the right ratio of fruits to almond milk, or figuring out which flavor profiles work well together takes lot of trial and error.
To help you out, I've put together three almond milk smoothie recipes to add some variety to your smoothie routine.
They each use the same base, but I'll show you how to spice things up depending on your taste preferences.
Why I Love Using Almond Milk For Smoothies
I've never been a fan of milk, and almond milk has been a game-changer for my morning smoothies.
Not only is it plant-based and dairy-free, but it also helps achieve that creamy texture we all love in a smoothie.
Plus, its neutral flavor won't overpower any of your other ingredients.
It also pairs well with various fruits, veggies, and other ingredients, allowing you to create endless flavor combinations.
Whether you prefer a fruity smoothie with berries and bananas or a nutty smoothie with peanut butter and protein powder, almond milk can help you achieve the perfect texture and taste.
Another benefit of almond milk smoothies is that they're a convenient way to pack in a ton of nutrients in one delicious drink.
And with the addition of protein powder and peanut butter, your smoothie can also be a great post-workout snack to help build muscle and aid in recovery.
So, whether you're a smoothie enthusiast or just starting to dabble, almond milk smoothies are a fantastic way to start your day.
Sit back, relax, and sip on your nutty and delicious creation. Cheers to a healthy and tasty treat!
Our Almond Milk Smoothie Recipes
For the smoothie base, you'll need the following:
1 cup of unsweetened almond milk (a dairy-free milk option)
1/4 cup of rolled oats (for added fiber)
1 medium-sized frozen banana (for natural sweetness and creaminess)
Next, choose one of these tasty options:
The Spiced Pumpkin Pie Smoothie
Ingredients:
1 tsp of pumpkin pie spice
1/3 cup of pumpkin puree
1/2 tsp of carob powder (for a cozy and earthy fall flavor)
The creamy texture and cozy flavor come from the pumpkin puree and pumpkin pie spice.
And just when you thought it couldn't get any better, the carob powder adds a chocolatey goodness that will make you feel like you're indulging in a dessert.
But don't feel guilty - pumpkin is packed with antioxidants and fiber, while carob powder is a great source of calcium and iron.
The Green Goodness Smoothie
Ingredients:
1 cup of spinach leaves
1 Granny Smith apple
1/2 tsp of flaxseed powder
1 tbsp of honey (for a nutritious and sweet taste)
Spinach leaves contain a healthy dose of vitamins and minerals, while flaxseed powder provides omega-3 fatty acids.
Plus, honey sweetens the deal and has antibacterial and anti-inflammatory properties. The sweetness of the apple and honey will also balance out the earthy taste of the spinach.
The Berrylicious Protein Smoothie
Ingredients:
1/3 cup of frozen blueberries,
1 tbsp of peanut butter
2 tbsp of protein powder (for a fruity and nutty protein boost)
The frozen blueberries add sweetness, while the peanut butter brings a rich, nutty flavor.
And remember the protein powder, which helps build and repair muscles - perfect for a post-workout snack.
Blueberries are high in antioxidants, and peanut butter is a good source of healthy fats and protein.
How to Make Almond Milk Smoothies
Are you ready to blend up a tasty and healthy smoothie that will keep you fueled throughout the day?
Here's how to do it:
First, grab a high-powered blender and blend the base recipe—1 cup of unsweetened almond milk, 1/4 cup of rolled oats, and 1 frozen banana.
Blend everything together until it's completely smooth and creamy.
Now comes the fun part! Choose from one of the three options to add some extra flavor and nutrition.
Whether you're feeling the pumpkin spice vibes, craving some leafy greens, or in the mood for something fruity, we've got you covered.
Add the ingredients to the blender and continue blending until everything is smooth.
Pour your smoothie into a glass if you're ready to enjoy it immediately or into a bottle if you're on the go.
Sip it slowly or guzzle it down; it's up to you! Sit back, relax, and take a moment to savor the deliciousness that you've just created.
That's it; you're done! Enjoy your smoothie the way you like it!
8 Tips & Tricks for Making Delicious Almond Milk Smoothies
Check out these tips and tricks for making the best almond milk smoothie:
1. Sip in Style
Drink your smoothie with a glass or metal straw. It's better for the environment and enhances the overall smoothie-drinking experience.
Skip the flimsy cardboard and plastic straws—they won't hold up to the density of a delicious smoothie.
2. Go Vegan in a Snap
Want to make your smoothie vegan? No problem!
Simply swap out the honey in option 2 for maple syrup or your favorite plant-based sweetener.
And for option 3, choose a plant-based protein powder like pea or rice protein powder instead of whey or casein-based protein.
3. Mix It Up
Don't want almond milk? No worries! You can use any plant-based milk you prefer, like soy, cashew, rice, or oat milk.
4. Blend Like a Boss
Invest in a high-powered blender for maximum smoothie-making success. It's the key to getting that creamy consistency with frozen bananas, almond milk, and oats. But don't worry about getting everything perfectly smooth - leaving a few particles is just fine!
5. Keep It Fresh
Keep your smoothie fresh for up to 36 hours by storing it in an airtight bottle in the fridge.
6. Spice It Up
Want to mix up your flavors? Make your own pumpkin pie spice blend by combining cinnamon, nutmeg, ginger, cloves, and allspice in any amount you want.
7. Nut Butter Nirvana
Feel free to mix and match nut butters! While peanut butter is a classic choice, cashew butter and almond butter are delicious alternatives. And if your fruits aren't sweet enough or you're using unsweetened nut butter, add a teaspoon of your favorite sweetener or maple syrup.
8. Greens First
For the Green Goodness recipe, blend your spinach and almond milk together first to avoid spinach chunks in your smoothie. Thanks to Simple Green Smoothies for the tip!
Now that you've got the tips and tricks go ahead and get blending! Your tastebuds will thank you.
Print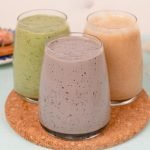 Almond Milk Smoothies
---
Author:

Total Time:

5 minutes

Yield:

1

serving

1

x

Diet:

Vegetarian
Description
These three variations of almond milk smoothies offer something for everyone. From the fall-inspired Spcied Pumpkin Pie smoothie, to the healthful Green Goodness smoothie, and flavorful Berrylicious Protein smoothie, you'll have plenty to choose from!
---
For smoothie base:
1 cup

almond milk, unsweetened

1/4 cup

rolled oat

1

medium frozen banana
Option 1 (The Spiced Pumpkin Pie Smoothie):
1 tsp

pumpkin pie spice

1/3 cup

pumpkin purée

1/2 tsp

carob powder
Option 2 (The Green Goodness Smoothie):
1 cup

spinach leaves

1

Granny Smith apple

1/2 tsp

flaxseed powder

1 tbsp

honey
Option 3 (The Berrylicious Protein Smoothie):
1/3 cup

frozen blueberry

1 tbsp

peanut butter

2 tbsp

protein powder
---
Instructions
Blend the almond milk, rolled oat, and frozen banana together in a high-powered blender until completely smooth. 

Add the ingredients of your chosen option and continue to blend until you have a homogeneous mixture.

Pour into glasses to drink straight away or into a bottle to drink on the go.

Enjoy your smoothie the way you like it!
Notes
Drinking with a straw will increase your smoothie pleasure. I recommend using a glass or metal straw. Not only because it is environmentally friendly, but also for you to enjoy your smoothie. Cardboard or plastic straws are not a suitable choice for drinking smoothies, you will have to exert more effort due to the density of the smoothie.

To make option 2 vegan, you can choose the same amount of maple syrup, plant-based sweetener, or fruit extract instead of honey. To make option 3 vegan, choose plant-based protein powder such as pea or rice protein powder instead of casein- or whey-based protein powder.

You can use any plant-based milk you prefer, such as almond, soy, cashew, rice, or oat milk.

Use a high-powered blender to make smoothies. The power of the blender you use is important to bring a frozen banana, almond milk, and oat to a creamy consistency. Whether you make your smoothie completely smooth or not is entirely up to you, after the base is creamy and smooth, you do not have to make the ingredients you add in the second step completely smooth, you can leave it with particles.

You can keep your smoothie in an airtight bottle in the refrigerator for up to 36 hours.

If you want to make your own pumpkin pie spice blend to your taste, you can mix cinnamon, nutmeg, ginger, cloves, and allspice in any amount you want.

You can use any nut butter you want instead of peanut butter. Cashew butter and almond butter will go well with this smoothie. If you are using an unsweetened nut butter and your fruits are not sweet enough, you can add 1 tsp sweetener or maple syrup.
Prep Time:

5

Category:

Breakfast

Method:

Blending

Cuisine:

American