These fluffy almond milk biscuits come together quickly and make a great addition to your breakfast lineup.
This recipe is very versatile and can be used as a base to make a number of biscuit variations, ranging from sweet to savory.
How To Make The Best Almond Milk Biscuits
The key to making the best almond milk biscuits is to ensure your ingredients are chilled.
I'd go so far as to recommend sticking your bowl – glass or stainless steel – and butter in the freezer before getting started.
That way, as you go through the recipe, your ingredients will remain cold longer.
The cold butter helps you achieve the flaky layers we look for in a beautifully baked biscuit. This recipe calls for vegan butter but you can use chilled coconut oil in its place.
For this recipe, you'll need:
Plain unsweetened almond milk
Lemon juice
All-purpose flour
Baking powder
Baking soda
Salt
Non-dairy butter
First, you need to make a vegan buttermilk. Combine one cup of almond milk with lemon juice and whisk for about a minute.
Next, prepare your dry ingredients. Add flour, baking powder, baking soda, and salt into a mixing bowl.
Once those are well combined, add in your chilled butter, using your fingers or a pastry cutter to make sure it's well mixed. The end result should be small crumbs.
Now add the vegan buttermilk and gently combine it with a spoon.
Once everything is well combined, place your dough on a floured surface and it's time to fold!
When folding the dough, work quickly so that the warmth from your hands doesn't melt the fat too quickly.
I recommend placing the folded dough in the fridge for 5-8 minutes just to re-chill the ingredients before moving on to the cutting step.
Another quick tip for making the best biscuits is to never overwork the dough since this will cause develop too much gluten in the dough and cause the biscuits to be more "bread-like" and not as light and flaky.
With your flattened dough, you can start cutting the dough. Dip your biscuit cutter into flour and cut your dough into biscuit-shaped circles.
Put your biscuits on a baking tray lined with parchment paper and use your thumb to make an indentation on the dough. Then brush the top of your biscuits with a little almond milk and place them in the oven.
They should take between 12-15 minutes to finish. Take them out once they're golden brown on top!
Substitutions & Alternatives
Vegan Butter - Fat is a huge part of any biscuit recipe and should not be left out. You can substitute vegan butter with chilled coconut oil if you don't like vegan butter.
Lemon Juice - Acid is integral to achieving the vegan buttermilk in this recipe. When mixed with the almond milk, it causes the milk to curdle and form a "buttermilk" like consistency. Feel free to substitute lemon juice with lime juice, apple cider vinegar, or white vinegar.
Biscuit Cutter - No need to worry if you don't have a biscuit cutter. You can practically use anything that is round such as a round glass, mason jar lid, or even a cookie cutter.
Pastry Cutter - A pastry cutter isn't necessary to make some amazing biscuits. You can use two forks or two butter knives in its place. Another option is to chill your butter solid enough to be grated using a box grater.
How To Store Almond Milk Biscuits
These homemade biscuits won't keep well for long and are best enjoyed hot out of the oven.
If you happen to have leftovers, then store them in an airtight container or Ziploc bag and place them in the fridge, where they will keep fresh for three days.
You can also store them in a freezer-safe container where they will keep for about three months.
To reheat from the fridge, place them on a baking sheet lined with parchment paper or aluminum foil and bake at 350 degrees for 5-8 minutes. If reheating from frozen, then bake for 10-15 minutes until heated through.
What To Serve With Almond Milk Biscuits
Oh, where do I start? You can serve these almond milk biscuits in so many ways.
They can be enjoyed both sweet and savory.
You can enjoy them as-is with a drizzle of honey and some jam, or you can give them a savory touch and fill them with some scrambled eggs and bacon for a yummy breakfast sandwich.
Print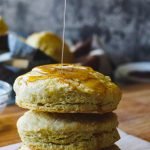 Almond Milk Biscuits
---
Author:

Total Time:

35 minutes

Yield:

4

servings

1

x

Diet:

Vegan
Description
These fluffy biscuits are made using almond milk, making them completely vegan and dairy-free!
---
1

cup

plain, unsweetened almond milk

1 Tbsp

lemon juice (*see notes for substitutions)

2

cups

all-purpose flour

1 Tbsp

baking powder

1/2 tsp

baking soda

1/2 tsp

salt

6 Tbsp

cold, non-dairy butter (*see notes for substitutions)
---
Instructions
Preheat your oven to 425 degrees. Prepare a vegan buttermilk by combining the almond milk and lemon juice in a small bowl or measuring cup. Whisk vigorously for 1 minute, then set aside.
In a large bowl, sift together the flour, baking powder, baking soda, and salt, then mix to combine. Add the chilled butter and use your fingers or a pastry cutter to incorporate the chilled butter into the flour. It should resemble fine crumbs.
Add the vegan buttermilk and use a spoon to gently combine. Turn the dough onto a floured surface and form it into a rectangle. Use a rolling pin and gently roll the dough until it is evenly flat. Fold the rectangle in half, then use the rolling pin to roll it back into its initial shape. Repeat the folding step a second time to create layers in the dough.
Dip a biscuit cutter into some flour, and cut the dough into biscuits. Be careful not to use a twisting motion when cutting the biscuits. You'll have some dough left after the first round of cutting, simply reroll the dough if you choose and keep cutting the biscuits until the dough runs out.
Place the biscuits on a parchment-lined baking tray. Use your thumb and make an indentation in the dough, then brush the tops of the biscuits with some almond milk as an egg wash substitute.
Bake the biscuits for 12-15 minutes until golden brown.
Notes
You can substitute lemon juice with lime juice, apple cider vinegar, or white vinegar
You can substitute vegan butter with coconut oil
Prep Time:

20 minutes

Cook Time:

15 minutes

Category:

Breakfast

Cuisine:

American
Nutrition
Serving Size:

2 biscuits

Calories:

318

Sugar:

0.3 g

Sodium:

664 mg

Fat:

9.8 g

Carbohydrates:

50.2 g

Protein:

7.1 g

Cholesterol:

0 mg