Say hello to our Dairy-Free Avocado Pudding recipe – a delightful and healthier twist on traditional desserts that's sure to satisfy your sweet cravings.
This luscious and creamy treat is made with just a few simple ingredients, blending the velvety richness of ripe avocados with the irresistible taste of cocoa.
Plus, it's dairy-free, gluten-free, and packed with heart-healthy fats, antioxidants, and unrefined sugars.
The magic behind this pudding's smooth texture is all thanks to the star ingredient – ripe avocados.
These nutrient-packed fruits create a creamy base that's perfectly paired with ripe bananas, unsweetened cocoa powder, a dash of vanilla extract, and a splash of oat milk.
The result?
A flavor medley that'll have you coming back for seconds.
Whipping up this enjoyable dessert is a breeze. Just blend the ingredients until smooth as silk, then let it sit for the flavors to meld together.
Enjoy it chilled or at room temperature, and feel free to get creative with toppings like fresh whipped cream, banana slices, chopped dark chocolate, or crunchy nuts.
Our Dairy-Free Avocado Pudding not only hits the spot but also makes for unforgettable moments.
Whether you're treating yourself to a cozy night in or wowing loved ones with a delicious dessert, this dairy-free delight is sure to steal the show.
And the best part?
You won't even taste the avocado, as the cacao powder, oat milk, and vanilla extract hide any trace of its flavor. All you'll get is the creamiest, most addictive dairy-free pudding ever.
Dig in and bon appétit!
Dairy-Free Pudding Ingredients:
Get ready to be wowed by the rich flavors created by just a few simple ingredients:
1 medium ripe avocado, for a velvety texture and healthy fats
2 large ripe bananas, for natural sweetness and creamy consistency
2 tsp vanilla extract, to boost the aroma and taste
2 tbsp unsweetened cocoa powder, for that irresistible chocolate flavor
¼ cup oat milk, for added creaminess
How to Make Dairy-Free Pudding
Step 1: Grab your trusty food processor and throw in the avocado, bananas, vanilla extract, cocoa powder, and oat milk.
Step 2: Blend everything together until it's smooth and creamy. And don't forget to scrape down the sides of the bowl to ensure everything gets mixed in properly.
Step 3: Once it's all blended, transfer the mixture into some stylish serving bowls and let it chill for at least an hour. The longer you wait, the more the flavors will meld and become even more delicious.
Step 4: When you're ready to eat, enjoy the pudding either chilled from the fridge or at room temperature – it's totally up to you and your taste buds.
Step 5: Feeling fancy? Go ahead and add some fun toppings like whipped coconut cream, banana slices, a sprinkle of chopped dark chocolate, or some nuts. Get creative and make it your own.
Tips & Tricks for Making Delicious Non-Dairy Chocolate Pudding
Pick Top-notch Oat Milk
The quality of your oat milk can make or break your pudding's consistency. You might have noticed that some oat milk brands are more watery than flavorful.
So, pick an oat milk that you've tried before and enjoy the taste and texture of. A rich and tasty oat milk will give you amazing results.
Use Ripe Fruits
For a silky-smooth texture and natural sweetness in your pudding, be sure to use ripe avocados and bananas.
The avocados should feel soft and give a little when you gently squeeze them. This ensures they'll blend beautifully and adds to the consistency of your dessert.
Prep it Ahead of Time
This pudding is perfect for making in advance, which means you can save time when hosting or getting ready for a special event.
Whip up the pudding a day ahead and stash it in the fridge. This not only lets the flavors meld together but also makes it super convenient to serve chilled when your guests arrive.
Substitutes
Add Sweetener
If you want it a bit sweeter, you can add some maple syrup or honey.
You can use other low-carb sweeteners like stevia or monk fruit sweetener. If you're not following a low-carb diet, you can use regular sugar or brown sugar.
You can also totally use dates for this recipe. So, before you blend everything together, just pop a couple of dates in some water and give them a little time to soften up. That way, you'll end up with a super rich and creamy pudding.
Oat Milk
If you don't have oat milk on hand, you can substitute it with other non-dairy milk alternatives such as almond milk, soy milk, or coconut milk.
Each milk option will add its own unique flavor profile to the pudding, so choose the one that appeals to your taste preferences.
Vanilla Extract
Vanilla extract enhances the overall flavor of the pudding, but if you don't have any on hand, you can use vanilla bean paste or even scrape the seeds from a fresh vanilla bean.
Alternatively, you can experiment with other extracts like almond or coconut for a different aromatic twist.
Toppings Ideas
Check out these scrumptious and eye-catching topping ideas to take your avocado pudding to a whole new level:
Fresh Berries
Give your pudding a splash of color and a refreshing twist by throwing in a handful of fresh berries like strawberries, raspberries, or blueberries. These juicy gems not only look stunning but also pair perfectly with the rich cocoa flavor.
Chopped Nuts
Craving some crunch? Toss a handful of chopped nuts, like almonds, walnuts, or hazelnuts, onto your pudding. They'll add a tasty contrast to the silky-smooth texture.
Shredded Coconut
For a taste of the tropics and a subtle crunch, sprinkle some toasted or untoasted shredded coconut on top of your pudding. It's a simple yet flavorful addition.
Chocolate Shavings
Go all out with the chocolate goodness by grating some dark chocolate over your pudding. The bittersweet notes will balance the sweetness of the pudding and make it look even more irresistible.
Keep in mind, toppings aren't just for show – they're also about boosting the flavor and texture of your pudding.
Feel free to mix and match these ideas or get creative with your own combos to make your Dairy-Free Avocado Pudding even more delectable!
Print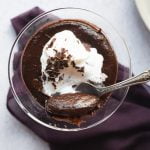 Dairy-Free Chocolate Pudding
---
Author:

Total Time:

5 minutes

Yield:

3

Servings

1

x

Diet:

Vegan
Description
This dairy-free chocolate pudding recipe is made with avocados and no added sugar! But it's a chocolatey and rich as the pudding cups you know and love!
---
1

medium Avocado, ripe

2

large Banana, ripe

2 tsp

Vanilla Extract

2 tbsp

unsweetened cocoa powder

1/4

cup

oat milk
---
Instructions
In a food processor, combine the ripe avocado, bananas, vanilla extract, cocoa powder, and oat milk.
Blend the ingredients until smooth and creamy, scraping down the sides of the processor bowl as needed.
Transfer the mixture to the serving bowls and let it rest for at least 1 hour. The longer it rests, the better the flavors will develop.
You can serve the pudding chilled or at room temperature, depending on your preference.
Optionally, you can garnish the pudding with toppings like whipped cream, sliced bananas, a sprinkle of chopped dark chocolate, or chopped nuts.
Notes
This recipe requires a food processor to blend all the ingredients together.
Make sure to use ripe avocados and bananas for the best flavor and texture.
Choose high-quality oat milk for better flavor and consistency.
Consider alternative sweeteners, like dates, stevia, or regular sugar.
Enhance taste with toppings like whipped coconut cream, berries, and nuts.
Make pudding in advance for convenience and better flavor melding.
Prep Time:

5 minutes

Category:

Dessert

Cuisine:

American
Nutrition
Serving Size:

1 Serving

Calories:

235

Sugar:

12.3 g

Sodium:

16.3 mg

Fat:

13 g

Carbohydrates:

31.1 g

Protein:

3.4 g

Cholesterol:

0 mg
Keywords: chocolate pudding