This homemade vanilla almond milk recipe is nutritious, delicious, and better than anything you'll find at the grocery store. It works great in smoothies, coffee, oats, pudding, or anything else you'd typically use milk for.
Here's how to make vanilla almond milk quick and easy!
What is Vanilla Almond Milk?
Vanilla almond milk is a blend of almonds, water, and vanilla. Depending on your preference, you can use vanilla extract or whole vanilla bean to add the vanilla flavor.
Compared to plain almond milk (made with almonds and water), vanilla almond milk has a sweeter, more robust flavor.
Vanilla Almond Milk Ingredients
The best part about this vanilla almond milk recipe is it doesn't require many ingredients. You only need three essential ingredients:
1 cup of raw unsalted almonds
4 cups of water
1-2 teaspoons of vanilla extract
I'd also suggest adding a pinch of salt to bring out the vanilla flavor.
You can substitute vanilla bean for vanilla extract. However, I'd highly recommend sticking with vanilla extract because it's more affordable, easier to find, and adds the perfect hint of vanilla to almond milk without being overpowering.
I also highly recommend using organic almonds if it's within your budget. Conventional almonds are sprayed with more pesticides, may contain GMOs, and are worse for the environment.
Check out our article and video to learn more.
Lastly, you'll need a few tools for this recipe:
A high-powered blender
A nut milk bag
An air-tight container to store your vanilla almond milk
Check out the specific products I use below:
How to Make Vanilla Almond Milk
The process of making vanilla almond milk is very simple.
First, soak your almonds in a container for at least 8 hours. If you're in a crunch for time, you can soak your almonds in boiling water for a couple of hours instead. However, I recommend soaking them overnight.
Soaking your almonds plumps them up. This allows you to extract more liquid from them and gives you a creamier texture. Additionally, soaking almonds makes helps with digestion!
After you've soaked your almonds, rinse them under cool water.
Then combine the almonds, water, vanilla extract, and salt in a blender. Depending on your blender, you'll want to blend it for 1-2 minutes.
Once the mixture is well blended and smooth, pour it into a nut milk bag over a glass bowl and strain it.
You need to strain almond milk to give it a smooth and creamy texture that's more palatable. Without straining it, you'd be left with a grainy mixture you probably don't want to drink.
After straining the vanilla almond milk, you'll have leftover reminisce in your nut milk bag that looks like clay. This is called almond pulp. Don't throw it away! You can dry it out in the oven, then use a coffee grinder (or something similar) to turn it into almond flour!
Pour your strained vanilla almond milk into an airtight container, and you're done! Store it in the fridge, and it should last 3-5 days.
As a heads up, your almond milk will separate when left in the fridge—it's completely normal!
Since homemade almond milk doesn't contain emulsifiers or preservatives, the almonds and water separate over time. Give the bottle a little shake, and it will blend back together!
How to Customize Your Vanilla Almond Milk
One of the best things about this vanilla almond milk recipe is it's very customizable! I'd suggest starting with the recipe as-is, then depending on your preference, here are some ways to customize it:
Use more or less vanilla: If the vanilla flavor is too strong, try using only 1tsp of vanilla extract. Add one more tsp if you can't taste the vanilla or want to boost the flavor.
Add sweetener: You can easily sweeten this recipe by adding 1-2 dates, 2 tbsp of maple syrup, or any other natural sweetener of your choice. However, I'd avoid using sugar (monk fruit is a good alternative).
Almond to water ratio: You can adjust the creaminess of this recipe by using fewer almonds or more water. Using fewer almonds will give you thinner milk, and using less water will thicken your milk. Adding more water can also give you a more neutral flavor.
Use vanilla bean: If this recipe isn't vanilla-y enough for you, vanilla bean has a more intense flavor than vanilla extract.
Homemade Vanilla Almond Milk vs. Store Bought
There are very few brands that make vanilla almond milk with quality ingredients. Most add sugar, emulsifiers, and use "natural vanilla flavor" rather than real vanilla.
To make matters worse, they barely use any almonds! This homemade vanilla almond milk recipe contains more almonds than any brand you'll find at the grocery store, doesn't contain any unnatural ingredients, and it's fun to make!
| | | |
| --- | --- | --- |
| | | |
| | | |
| | | |
| | | |
| | | Cell |
| | | Cell |
| | | Cell |
| | | Cell |
| | | Cell |
| | | Cell |
| | Cell | Cell |
Vanilla Almond Milk: FAQs
Can I use vanilla bean instead of vanilla extract?
Yes, you can use vanilla bean instead of vanilla extract. Just keep in mind vanilla bean is much more potent than vanilla extract.
Can I use roasted or salted almonds?
I'd suggest using plain raw unsalted almonds to keep the flavor profile neutral. Plus, this particular recipe includes salt.
How many calories are in vanilla almond milk?
Depending on the amount of almonds you use, this recipe yields about 100 calories per serving.
How long does vanilla almond milk last?
Homemade vanilla almond milk will last about 3-5 days in the refrigerator.
How much vanilla should you add?
Start with one teaspoon and add more or less, depending on your preference.
What does vanilla almond milk taste like?
Vanilla almond milk has a nutty flavor from the almonds with a hint of vanilla.
Print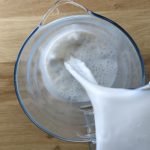 Vanilla Almond Milk
---
Author:

Total Time:

8 hours 5 minutes

Yield:

32 oz

1

x

Diet:

Vegan
Description
This all-natural vanilla almond milk is easy to make, uses simple ingredients, and is healthier than anything you'll find in the grocery store!
---
1

cup

raw almonds

1 tsp

vanilla extract

4

cups

water
---
Instructions
Cover almonds in water and soak them in the fridge for at least eight hours (preferably overnight)
Strain and rinse soaked almonds
Combine almonds, vanilla extract, and water in a blender
Blend in a high-speed blender for 1-2 minutes
Pour the mixture through a nut milk bag and strain into an air-tight container
Notes
Store the almond milk in the fridge. It should stay fresh for 3-5 days.
Prep Time:

8 hours

Cook Time:

5 minutes

Cuisine:

Milk