Did you know that you don't need an ice cream maker to make ice cream at home? Dairy-free ice cream, at least.
If you have a sweet tooth, then dive into this dairy-free ice cream recipe. It's creamy, luxurious, and very simple to make – the hard part is waiting for it to firm up.
Dairy-Free Ice Cream Ingredients
My dairy-free ice cream recipe only used four simple ingredients:
Full fat coconut milk
Sugar
Vanilla extract
Raspberries (or your fruit of choice)
I'll give you some alternative ingredients a little later in case you want to personalize this recipe to your taste.
How To Make The Best Dairy-Free Ice Cream
Here's the thing, as delicious as they are, dairy-free ice creams can be a bit on the pricey side.
But with a recipe like this, you can be on your way to becoming the family's in-house ice cream maker.
A simple yet careful blend of coconut milk, sugar and vanilla extract creates a rich, well-loved dessert that you can dive into again and again.
One of the things to note about this recipe is that you need to use full-fat coconut milk.
As with dairy ice cream, a good amount of fat is needed to ensure that the final result is creamy and scoopable.
Now, in each can of coconut milk is a mixture of fat and water. We need to separate the two so that we only use the fat or coconut cream for the recipe.
Do this by placing the cans of coconut milk in the fridge for a period of time to allow the fat to rise to the top of the can.
Be mindful when handling the can after it has been chilled because you don't want to shake it and cause the mixture to form together again.
Carefully scoop the fat layer into a bowl and be careful not to get any of the water. The water will hinder the final ice cream from hardening properly.
Likewise, you can use unsweetened coconut cream in the can if you find it in stores.
Another thing to ensure is that when whipping the coconut milk mixture, try to get as much air in it as possible.
This step is what gives the ice cream its overall luscious texture and mouthfeel.
This recipe is so customizable and really acts as a great base for all your favorite ice cream flavors.
After the mixture is light and fluffy, this is the point where you can add in things like fresh fruits, syrups like caramel or chocolate, crushed cookies, cocoa powder and even herbs like mint.
I like to use raspberries!
Substitutions & Alternatives
One of the best things about this dairy-free ice cream recipe is it's easy to customize!
Here are some substitutions you can make depending on your flavor and nutritional preferences.
Coconut Milk
The dairy-free milk of choice for this recipe is coconut milk. Not just any coconut milk, but full-fat coconut milk.
I urge you not to substitute this ingredient since the coconut fat or cream is what helps to give the ice cream that smooth and creamy texture that mimics dairy ice cream.
Coconut Condensed Milk
While it can be a bit challenging to find in stores, coconut condensed milk gives this dairy-free ice cream a distinctly smooth texture and mouthfeel.
Check out the step-by-step directions to see how to prepare your own version of coconut condensed milk.
Vanilla Extract
This ingredient adds amazing flavor and aroma to the ice cream but feel free to experiment with different extracts and flavorings.
Try almond extract for a nutty twist or even peppermint extract with chocolate chips for a dairy-free mint chocolate chip delight.
Sugar
If you are watching your sugar intake, try using monk fruit sweetener or even date paste.
How To Store Dairy-Free Ice Cream
This delightful, homemade ice cream can be stored in an airtight, freezer-safe container for up to 10 days for the best texture and taste.
You can even place a piece of cling wrap over the top of the ice cream before closing the lid for maximum freshness.
What To Serve With Dairy-Free Ice Cream
In all honesty, what can't you serve with this dairy-free ice cream?
Ice cream is such a treat and quite frankly, everyone loves it.
This dairy-free ice cream is no different. You can enjoy it on its own, served alongside your favorite slice of cake, topped with crushed nuts or bathed in silky caramel.
You can also take things up a notch and use it in your favorite milkshake or smoothie recipes (like these!) for an indulgent, dairy-free take.
Print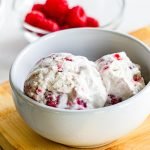 Dairy-Free Ice Cream (Vegan)
---
Author:

Total Time:

7 hours 45 minutes

Yield:

4

Servings

1

x

Diet:

Vegan
Description
Taste paradise with our tantalizing dairy-free ice cream recipe! Dive into the creaminess of coconut milk, the essence of vanilla, and the burst of fresh raspberries.
---
3

(13.5 oz) cans coconut milk, full fat

1/2

cup

sugar

1 1/2 tsp

vanilla extract
Optional: fresh raspberries
---
Instructions
Place 2 cans of coconut milk in the fridge for at least 6 hours or overnight.
Prepare the vegan coconut condensed milk by combining 1 can of coconut milk with ½ cup of sugar in a small saucepan over medium heat. Bring the mixture to a boil, then reduce the heat and simmer for 45 minutes until the mixture has reduced and thickened. Remove from the heat and allow it to cool.
Open the 2 chilled cans of coconut milk gently and be careful not to shake them. The cream or fat should've risen to the top. Use a spoon and carefully scoop the cream into a mixing bowl. Be careful not to get any of the water at the bottom of the cream. Save the water for smoothies or mocktails.
Use a handheld electric beater or whisk and whip the coconut cream until nice and fluffy – about 5 minutes. Add the cooled condensed milk and vanilla extract and whip for another 3 minutes. At this point, feel free to mix in ingredients like fresh raspberries, chocolate chips, or even crushed cookies.
Pour the mixture into a freezer-safe, airtight container and freeze for 4 hours or overnight. When you are ready to serve, take the ice cream out of the freezer and let it sit at room temperature for a bit to make it easier to scoop.
Notes
Substitute sugar with monk fruit sweetener or another alternative
Overnight freezing:

7 hours

Cook Time:

45 minutes

Category:

Dessert

Cuisine:

American
Nutrition
Serving Size:

1 serving

Calories:

451

Sugar:

26.5 g

Sodium:

22.7 mg

Fat:

36.4 g

Carbohydrates:

33.6 g

Protein:

3.8 g

Cholesterol:

0 mg
Keywords: vegan ice cream, dairy free ice cream